Hi friends!
I'm here to share my GD cards for the second post for August! I have 3 cards to share with you so I'll just jump right into telling you about them, this post will be long and photo heavy! :) Please have a look at the other gorgeous GD projects in STAMPlorations blog
HERE
.
Card 1 Darling Dog Roses
In my first card I've watercolored gold heat embossed images with Sakura Koi watercolors and Kansai Tambi Starry Colors. Also lots of golden, white and black paint splatters were added to make the card look a bit more artsy. :) I've die cut some dimension to the panel using Crazy Double Running Stitched Rectangle Nesting Dies. The hello-sentiment is unfortunately discontinued. I wasn't loving my watercolor blending so that's why I ended up using the Starry Colors on top of some of the flowers. When in doubt, add glitter, shine and splatters! LOL!
Here's the piece after just one coat of watercolor.
I hope you can see some shine from the Starry Colors in this photo!
Card 2 Framed Daffodils
My second coloring project was made with Polychromos colored pencils, coloring in the Framed Daffodils stamp. I added just layers and layers of color until the look pleased me! I colored the petals using sharpish strokes with the pencils and the centers I've blended with round motions for a "no lines" look. After my coloring was finished I masked the image and stenciled the Stained Glass stenciled design to the card. My favorite stencil in the whole world! Some white paint splatters finish off the card.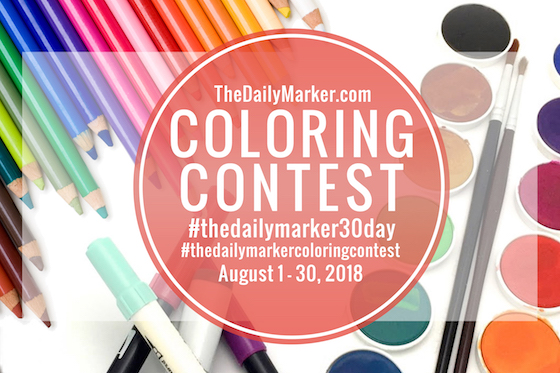 Only one layer of color here! Love how it's possible to add so much depth and color with many layers of pencils!
Card 3 Bloomtangled ATC #3
My final GD project for August is Bloomtangled ATC #3 stamp colored in with my trusted Copics... I love many coloring mediums but Copics have been my favorite for years. Bloomtangled #3 is a rectangle stamp but I used a MFT die to cut out just a portion of. I first planned on a "strict" pink, yellow and green color combo but ended up adding blue and red too. As almost always, the final project is "jazzed up" with lots of gel pen details. This sentiment stamp is from the Fond Expressions set.
My first plan for the color scheme..
...I ended up going more crazy! :)


So, here were the 3 projects! I hope you have enjoyed what you see here and feel like doing some coloring in yourself! Thanks for popping by and happy crafting!